Search Constraints
1 - 2 of 2
Number of results to display per page
Search Results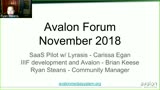 Date:

2018-11-21 (Creation date: 2018-11-14)

Main contributors:

Carissa Egan; Brian Keese; Ryan Steans

Summary:

Avalon Forum for November, 2018. Carissa Egan of Lyrasis discusses the Avalon SaaS pilot. Brian Keese of Indiana University discusses IIIF development in Avalon.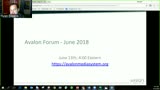 Date:

2018-06-15 (Creation date: 2018-06-13)

Main contributors:

Ryan Steans; Adam Arling; Brian Keese

Summary:

eReserves at Northwestern University/ IIIF & Avalon - Avalon users at Northwestern discuss how faculty request media, how they decide to use Avalon as the hosting solution, and how they place the m...